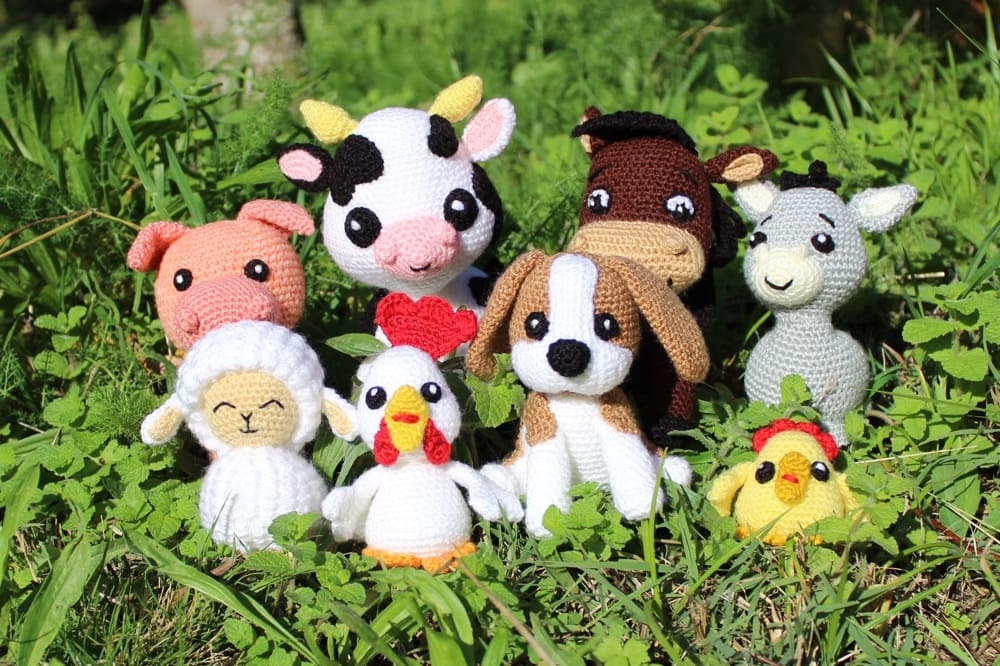 Hello!
When designing the amigurumis in the farm, in addition to ensuring that the pattern is clear, simple, well explained and gives rise to a cute doll, I have a great responsibility: that the design is adequate for the most vulnerable,  babies and small children.
Whether you are a designer or weaver, father, mother, grandparent or simply want to have a detail with that little loved one, you must have in mind certain requirements that amigurumis must satisfy to fully guarantee the safety of the child.

Size:
Products aimed at children under 3 years can not contain pieces less than 1,1 inches (3 centimeters) in diameter and 2,3 inches (6 centimeters) long.
Toys with ropes of more than 11,8 inches (30 centimeters) should be avoided due to the risk of strangulation.
Both the components and the separable parts must have dimensions such that they can not be swallowed or inhaled.
Materials:
Quality, natural threads should be used, intended for use in babies.
Synthetic, washable and hypoallergenic fiberfill.
Avoid the use of small pieces, both hard materials (buttons or beads, safety eyes …) and soft parts that can be detached (pieces of stuffing, felt …)
Avoid glue, paint or dyes as they may contain toxic elements, such as lead or cadmium, so that the child does not suffer from poisoning if he sucks the object.
They must be washable, so that they satisfy the conditions of hygiene and cleanliness to avoid any risk of infection, disease and contamination.
Assembly:
The parts must be well sewn while maintaining sufficient strength and stability to withstand the stresses resulting from their use without causing breakage or deformation that could cause injury.
It is necessary to avoid at all times that the fiberfill can leave through the fabric as there is a risk of being swallowed or inhaled.
Ensure that after cleaning the amigurumi, it maintains its structure intact while preserving safety requirements.
It is important to take into account that any toy involves a risk for a child under three years of age. Soft toys cause more than 1,500 accidents a year, with the detachment of small parts with the risk of suffocation, which entails the greatest danger.
Finally, I want to tell you about a beautiful initiative, originally from Denmark, which since 2013 has helped to humanize the neonatal areas of hospitals: Octos for premature babies.
These crocheted octos have given rise to a movement that gives visibility to premature babies and that achieves beneficial effects by means of the interaction of the babies with the spiral legs, stimulating them as they would do with the umbilical cord. Touching the tentacles reassures premature babies, improves their breathing and blood oxygen levels, and even prevents cables from being removed.
You can visit the pages of this project here:
https://www.spruttegruppen.dk/danish-octo-project-english
Share this Post:
[addthis tool="addthis_inline_share_toolbox_djcd"]