What is Suenhos Blanditos (Softly Dreams)?
Sueños Blanditos is an online store of patterns to crochet amigurumis or yarn dolls.
Behind the web and the designs of the patterns is me, Gretel Crespo, a Galician woman who loves crochet and amigurumis whose passion is to design patterns so that you can crochet adorable yarn dolls.
If you want to know me a little more Click here.
What products are for sale?
Patterns to crochet amigurumis or yarn dolls.
All patterns are downloadable files in pdf format.
There are no physical products for sale (no books, no dolls).
Once the payment is completed, you have the patterns at your disposal immediately, without waiting times or shipping costs.
Being in pdf format, you can comfortably view the patterns from practically any electronic device.
My designs are characterized by being totally soft. You can crochet them using only yarn, stuffing, and a crochet hook.
I don't use any hard materials (buttons, zippers, wires etc) so they are perfect for young children.
How can I buy the patterns?
To make the purchase you must follow the following steps:
1. Add the pattern you like to the cart. Click the ADD TO CART button.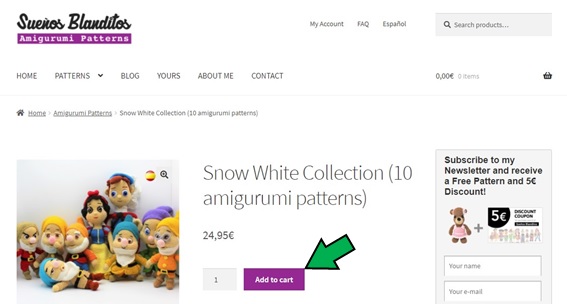 2. Now you are on the cart page. CHECK THE ORDER.
If you have a discount coupon, you can use it here.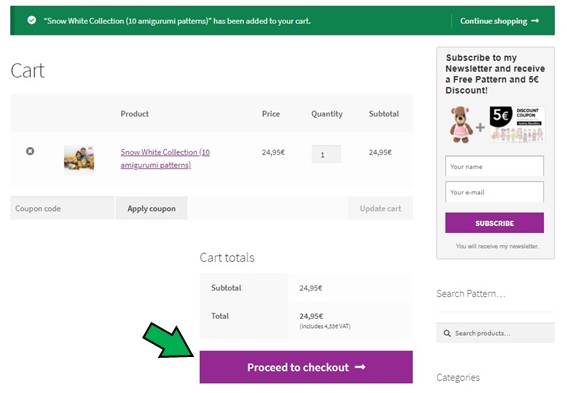 3. Click PROCEED TO CHECKOUT.
Fill in your billing information, read and check the box of the terms and conditions and click PROCEED TO PAYPAL.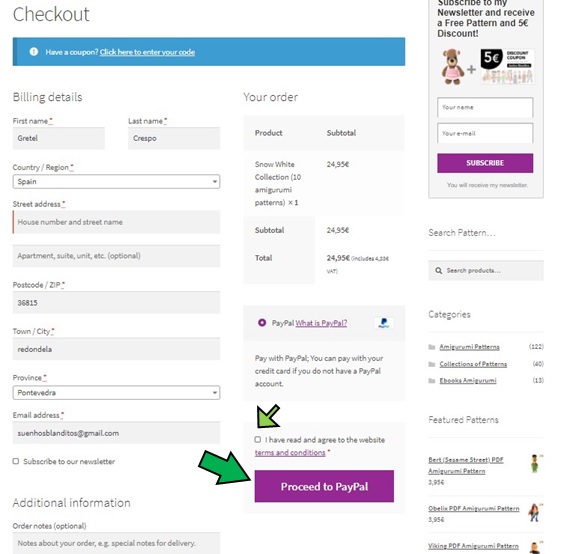 4. Follow the Paypal instructions to complete the payment. You can pay with the funds of your Paypal account, if you have one, or with a credit card.
5. At the end you will be able to download your pattern from your account on the web or from the link in the email with the details of the order that you will receive.
If you don't receive the email, please check your spam or junk mail box. If you are not able to download contact me and I will be delighted to send it to you.
I have a Coupon, how do I use it?
You have to enter the code of the coupon on the cart page and click APPLY COUPON.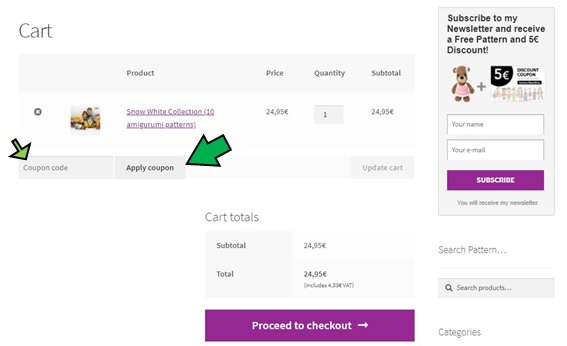 How do I download the free patterns?
To download some of the free patterns you have to subscribe to the Suenhos Blanditos mailing list.
This means that you will receive my newsletter with the latest content on the web: patterns, tips, tutorials … so you can crochet adorable amigurumis.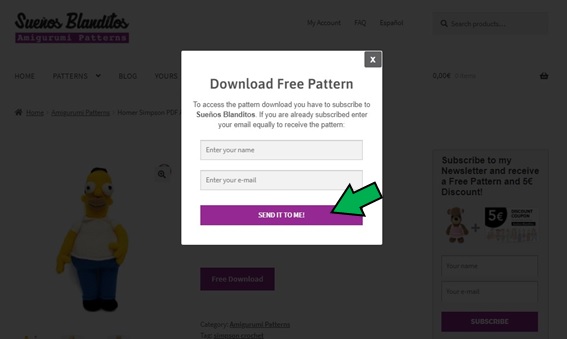 Other free patterns are direct download, so you don't have to do anything.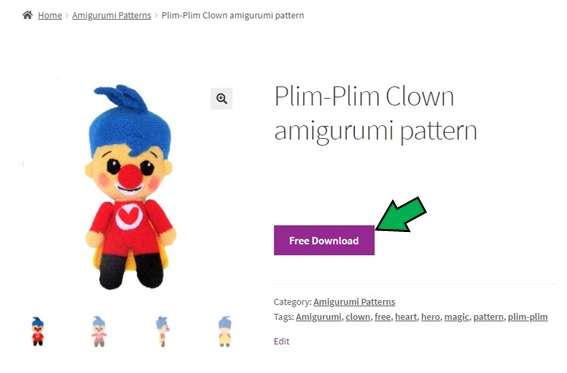 You can also find free patterns in the BLOG
Do I need to be registered to be able to buy at suenhosblanditos?
Yes, you have to be registered.
To register you can:
Fill in the registration form by entering MY ACCOUNT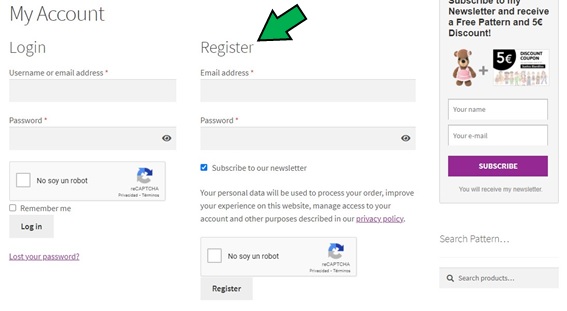 The first time you buy at Suenhos Blanditos an account will be created so that you can access your downloads whenever you want in My Account > Downloads.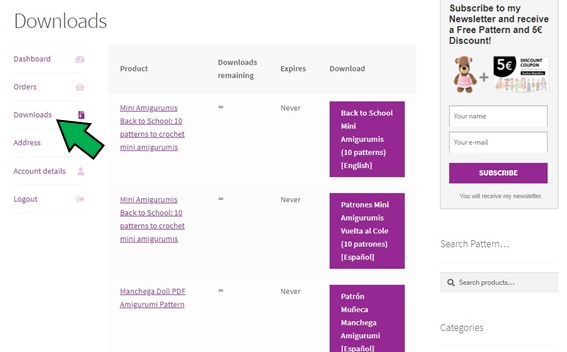 I don't have a PayPal account, can I pay with my credit card?
Yes you can. By clicking PROCEED TO PAYPAL you will be directed to PayPal to pay with your PayPal account balance or by entering your credit card details.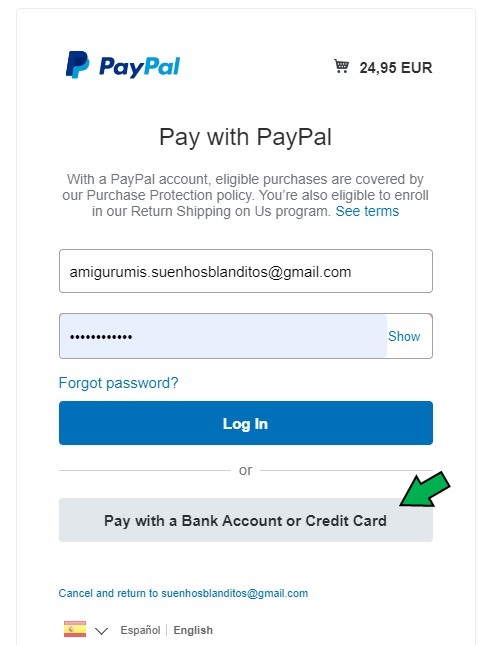 I don't have a credit card, do you accept other forms of payment?
No. At the moment we only accept payments through PayPal, either with funds from a Paypal account, if you have one, or with a credit card, by selecting this option on the Paypal website.
Can I pay with my local currency?
Yes, even if the price is in euros you can pay with the currency of your country.
You simply have to follow the purchase process as normal and PayPal will make the currency exchange.
To know the price in your local currency you can use any currency converter, such as xe.com.
Keep in mind that the price may vary slightly, since these websites may not be up to date.
PayPal will make the change based on how the price of the currency is at the time of payment.
I have bought a pattern but the download email has not arrived, what should I do?
The first thing you should do is check your junk or spam mailbox, it may have ended there. Also keep in mind that the email may take a while to arrive.
You can download your patterns whenever you want from your account on the web.
You must enter the web by clicking on MY ACCOUNT and enter your username or email and password. In your profile, in the Downloads section, you have all your patterns at your disposal.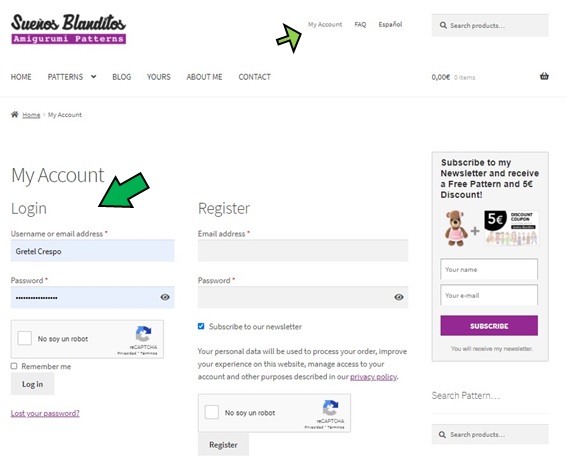 If you have any problem with the download please contact me and I will gladly send it to you.
Do I need a program to open the patterns?
In order to view and print the patterns you need a PDF reader, such as Adobe Reader or Preview for Mac.
In most devices it is already installed, so you will not have to do anything.
I cannot download or open the file. Tells me that it is damaged
Some devices seem to prevent the download or display of certain patterns even though the file is not corrupted or has a problem. This usually happens when the download is done through the link in the email.
Try downloading it from your web account and if the problem continues, contact me and I will send it directly to your email.
I have forgotten my password, how can I recover it?
You can recover your password from this link: suenhosblanditos.com/my-account/lost-password/
Enter the email associated with your account or your username and you will receive an email to change your password.
Please make sure that the email you are entering belongs to a Suenhos Blanditos account.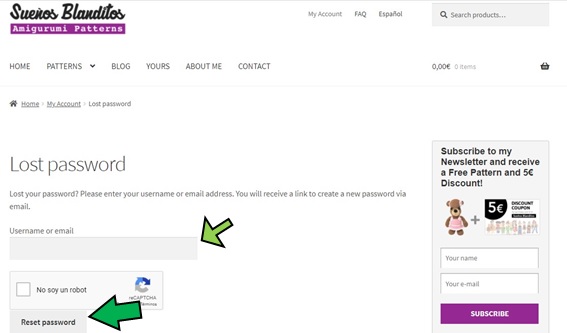 Is it the same the suscription that the register?
It´s not the same.
Being subscribed means that you will receive the emails of Suenhos Blanditos with the latest news, offers, posts of the blog … so you don't miss anything.
But if you want to have your profile on suenhosblanditos to be able to buy with your account, access your downloads, save in favorites… you must be registered on the web.
Does the subscription have any cost?
No, it's totally free.
How can I cancel my subscription?
You can stop receiving my emails by clicking Unsubscribe at the end of each email I send you.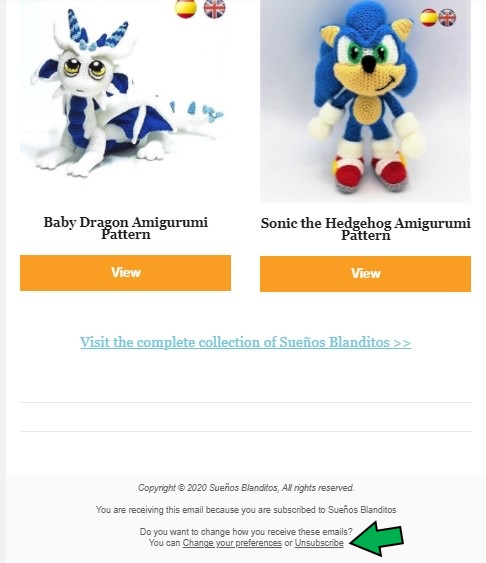 Are my data secured?
Totally safe.
The payment process is done externally through the well-known PayPal payment gateway, and only they save the information about your bank details. We never have access to this data.
f you have any doubts visit our Privacy Policy.
If you still have not resolved your question, please contact me.