Description
Amigurumis in the farm 2: 14 Patterns of farm theme is an ebook that you can download in PDF format to crochet a nice farmer bunny with a vegetable garden full of original vegetables.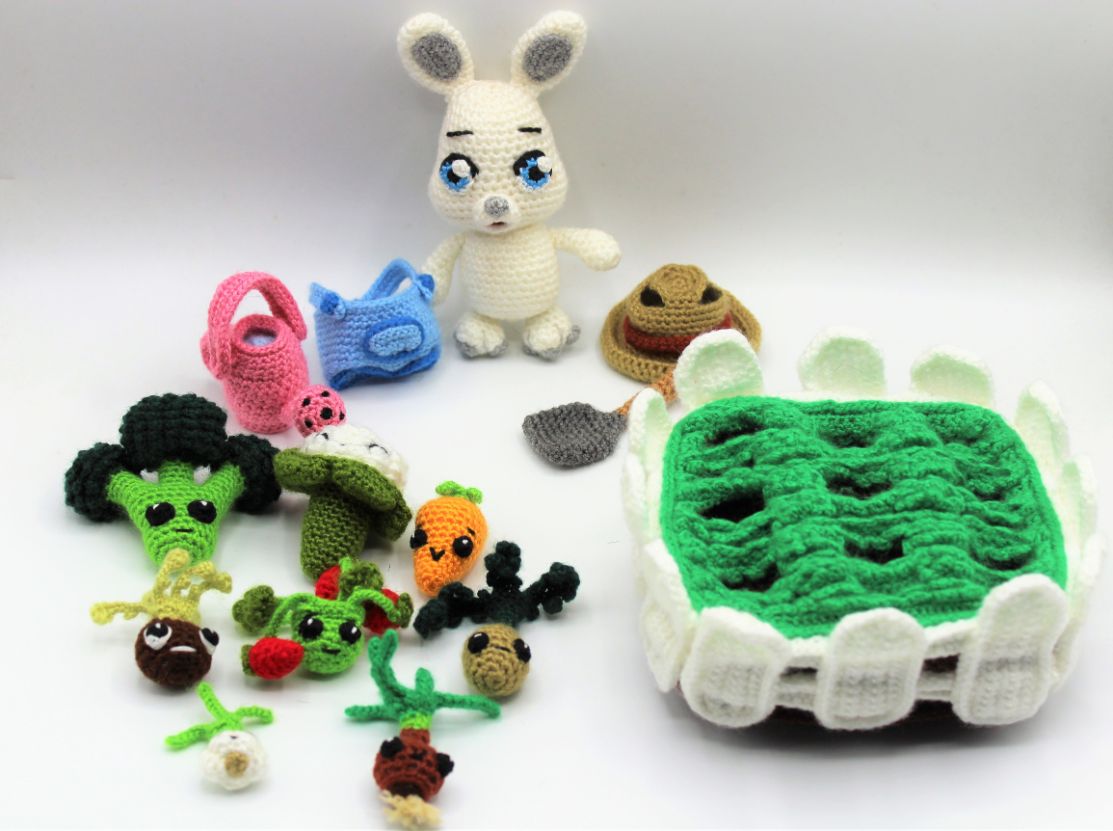 All the patterns have a marked children's design with the idea of ​​promoting a fun educational game among the little ones.
In this way, they can dress the bunny with his overalls pants and farmer's hat and plant the cute vegetables in the garden. Each of them has a place in the holes of the field, so it is very easy to plant and harvest.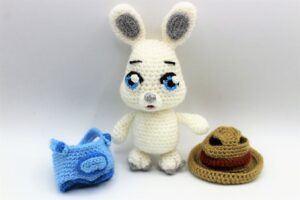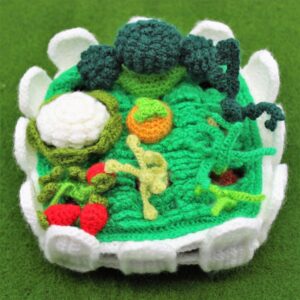 All amigurumis are medium and small in size, but their dimensions are safe for children. In addition, all the elements are incorporated into the design, well crocheted directly, well sewn to the main piece, which guarantees its safety.
As all my patterns they are designed without using any hard pieces. You can crochet them only with yarn , embroidery thread and fiber fill: "Totally Soft"
It's a downloadable  72-page PDF ebook that includes these 14 patterns:
Farmer Bunny: 6,2″ / 16 cm
Overall Pants: 1,5″ / 4 cm
Hat: 1,5″ / 4 cm
Hoe: 3,5″ / 9 cm
Watering Can: 2,7″ / 7 cm
Vegetable Garden: 4,7″ x 4,7″ / 12 x 12 cm
Carrot: 1,9″ / 5 cm
Potato: 3,5″ / 9 cm
Onion: 3,5″ / 9 cm
Garlic: 1,5″ / 4 cm
Cauliflower: 2,3″ / 6 cm
Strawberry Plant: 1,1″ / 3 cm
Weeds: 1,9″ / 5 cm
Broccoli: 2,7″ / 7 cm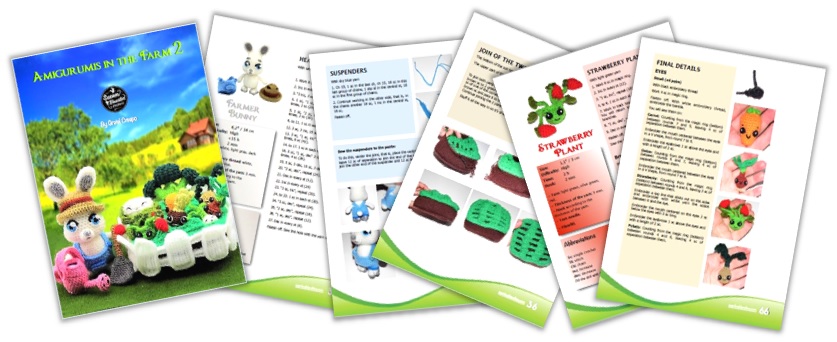 The patterns include the necessary stitches to crochet each part of the amigurumis, photos of the process, color changes, detailed explanations, assembly instructions and my help if you need it.
Author: Gretel Crespo (Suenhos Blanditos)
Language: Spanish and English
No. Pages: 72
Pdf format
You will receive 2 PDF's: one with the Spanish version and the other with the English version.
Download the Pdf ebook Amigurumis in the farm 2: 14 Patterns of farm theme and enjoy crocheting these original and fun amigurumis!
To download it you must add the product to the cart and follow the purchase process to the end.
The first time you buy, an account will be created so you can access your downloads whenever you want in My Account > Downloads.
If you already have an account, enter to make the purchase with the data of your account.
If you have any questions, please visit the FAQ (Frequently Asked Questions) or contact me and I will gladly help you.
* It is an Ebook in PDF format. It is not a physical book. *