Description
Autumn Gnomes: 12 Patterns to crochet Autumn Amigurumis is an ebook that you can download in PDF format to crochet 12 autumn-inspired amigurumis.
All of them are small and medium-sized amigurumis, of different levels of difficulty in terms of the details that are part of the characters.
Thus, you will practice, for example, the loop stitch on the male gnome's beard or the bobble stitch on the female gnome's braids. But don't worry, you know I'm here to help you answer any questions you may have.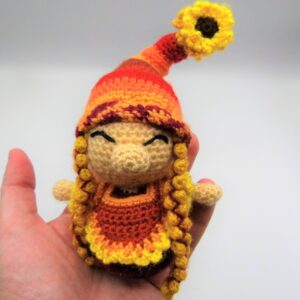 It's a downloadable  83-page PDF ebook that includes these 12 patterns:
Male Gnome: 6,2″ / 16 cm
Female Gnome: 5,5″ / 14 cm
Baby Gnome: 3,9″ /10 cm
Little Fox: 5,1″ / 13 cm
Mushroom: 3,1″ / 8 cm
Pumpkin: 2,3″ / 6 cm
Corn: 3,5″ / 9 cm
Acorn: 1,9″ / 5 cm
Red Mushroom: 2,7″ / 7 cm
Tangerine: 1,5″ / 4 cm
Chestnut: 1,5″ / 4 cm
Basket: 5,9″x3,9″ / 15×10 cm
The amigurumis in this collection are designed to play, but also to learn and decorate.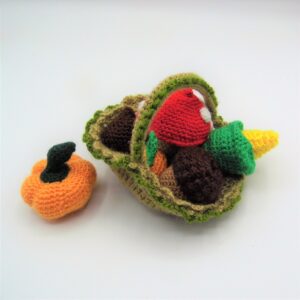 Like all my patterns, they are totally soft amigurumis, although you will have to be careful with the pieces of the fruits, since they are loose and although they are not excessively small, it is better to be careful with younger children.
In addition to being ideal for playing, these amigurumis will serve to learn about the most characteristic elements of autumn.
Thus, the male gnome represents the trees that lose their leaves, one of them wearing on his hat. Instead, the female gnome reflects the flowers of this era, with a beautiful sunflower on her hat as an example. The little baby gnome represents the fruits, with a bunch of grapes on his hat and tangerines on his dress and feet.

The patterns include the necessary stitches to crochet each part of the amigurumis, photos of the process, color changes, detailed explanations, assembly instructions and my help if you need it.
These lovely characters, together with the seasonal fruits, form a colorful decorative set designed with the predominant colors in autumn: oranges, yellows, reds and browns, in their different shades.
Author: Gretel Crespo (Suenhos Blanditos)
Language: Spanish and English
No. Pages: 83
Pdf format
You will receive 2 PDF's: one with the Spanish version and the other with the English version.
Download the Pdf ebook Autumn Gnomes: 12 Patterns to crochet Autumn Amigurumis and enjoy crocheting these original and fun amigurumis.
* It is an Ebook in PDF format. It is not a physical book. *