Description
Download the PDF patterns to crochet the loveable characters of The Flintstones:
Fred Flintstone PDF pattern (32 cm) – 18 pages
Wilma Flintstone PDF pattern (34 cm) – 14 pages
Pebbles Flintstone PDF pattern (24 cm) – 14 pages
Barney Rubble PDF pattern (25 cm) – 14 pages
Betty Rubble PDF pattern (30 cm) – 15 pages
Bamm-Bamm Rubble PDF pattern (23 cm) – 17 pages
With yarn, hook, fiberfill and basic knowledge of crochet you will be able to weave these amigurumis that will delight the little ones of the house.
The patterns include the stitches needed to crochet each part of the amigurumis ilustrated with photos of the process, color changes, detailed explanations, necessary materials, assembly instructions and my help if you need it.
Crochet needle: 2-3 mm
Language of the patterns: Spanish and English
You will receive 12 PDFs: 6 patterns in Spanish and English.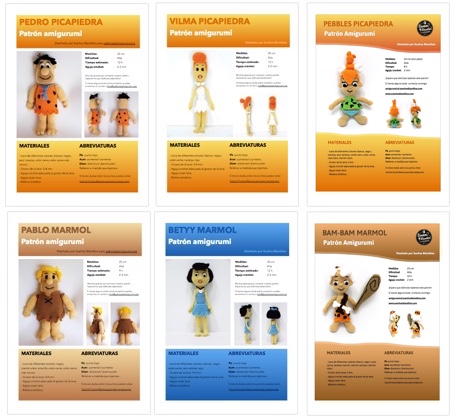 Download the patterns and begin to crochet them right now!
To download them you must add the product to the cart and follow the purchase process.
If you have any questions, please visit the FAQ.
These patterns belong to the ebook Amigurumi Characters: 15 Patterns to crochet yarn characters.