Description
In the ebook Amigurumis in the farm: 8 patterns to crochet farm animals you will find the patterns of 8 Adorable Farm Animals:
Lucky, the chick: 2,3″ / 6 cm
Gaia, the hen: 5,1″ / 13 cm
Piggy, the pig: 5,9″ / 15 cm
Ray, the horse: 7″ / 18 cm
Flora, the cow: 7,4″ / 19 cm
Lania, the sheep: 4,7″ / 12 cm
Coco, the puppy: 5,1″ / 13 cm
Franky, the donkey: 6,2" / 16 cm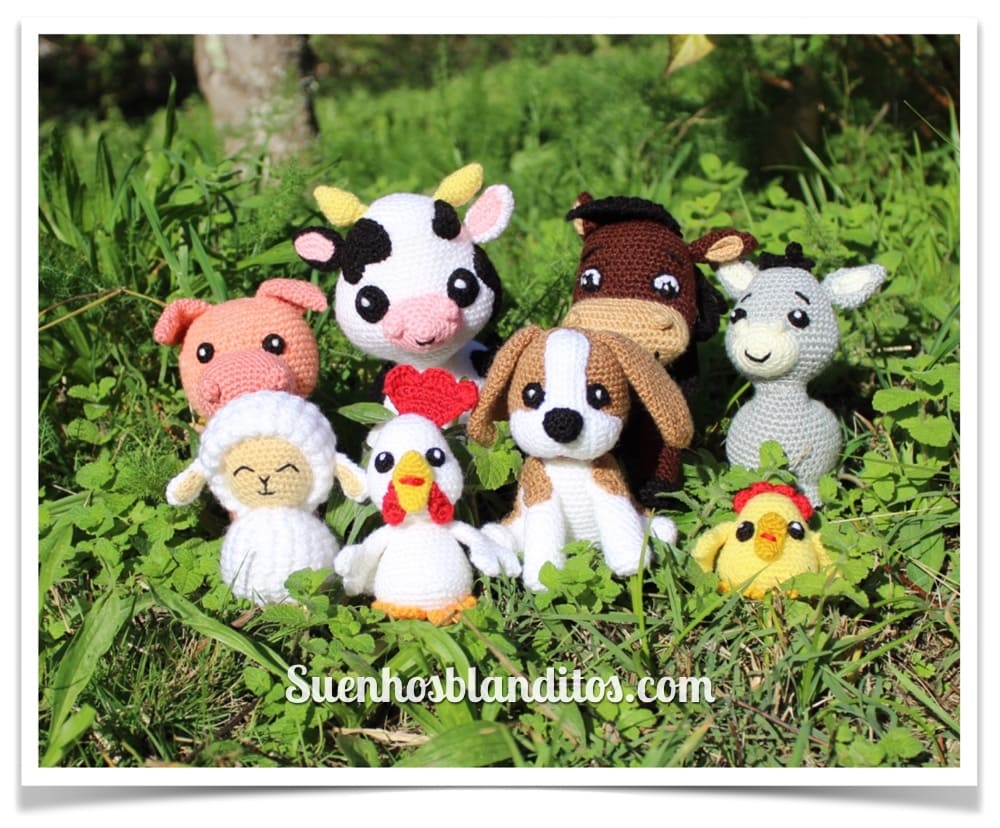 By following the instructions of the patterns, you can crochet 8 farm animals. They are small and medium size, with a chibi style, that is, a marked children's design.
All of them are simple patterns, but with different levels of difficulty, so that in addition to getting cute amigurumis you can enjoy crocheting them.
They also have few small pieces, but all of them are sewn and integrated into the design to ensure the safety of the youngest.
They are compact dolls, and like all my patterns, totally soft.
If you like the amigurumis of little animals, Amigurumis in the farm: 8 patterns to crochet farm animals is your collection!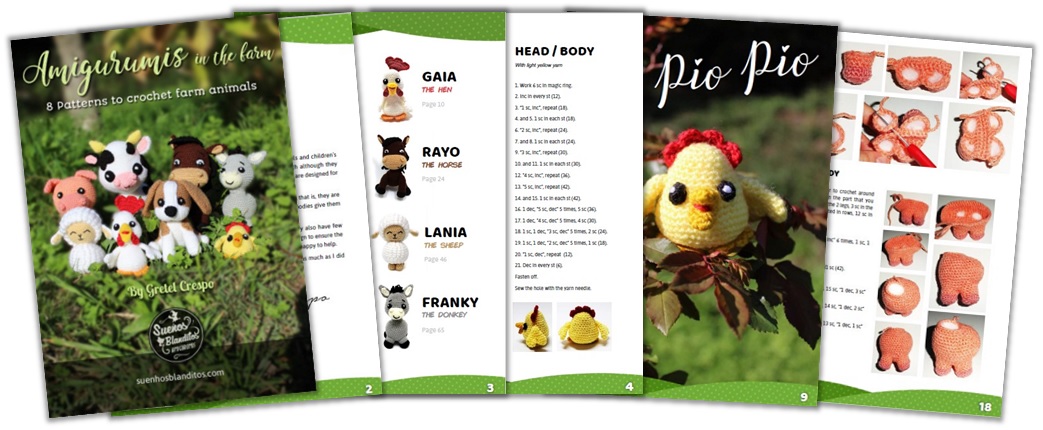 Author: Gretel Crespo (Suenhos Blanditos)
Language: Spanish and English
Pages:  73
Format: PDF
You will receive 2 PDFs: one version in Spanish and another with the English version.
Download the PDF ebook and begin to crochet them right now!
To download it you must add the product to the cart and follow the purchase process to the end.
The first time you buy, an account will be created so you can access your downloads whenever you want in My Account> Downloads.
If you already have an account enter to make the purchase with the data of your account.
If you have any questions, please visit the FAQ (Frequently Asked Questions) or contact me and I will gladly help you.
* It is an Ebook in PDF format. It is not a physical book. *