Description
Download the Communion Amigurumi Patterns in PDF to crochet these cute communion amigurumis:

Boy

Girl

Angel

Book

Cross

You will receive a PDF of 57 pages that includes the 5 Patterns.
By following the instructions of the patterns you can crochet 5 lovely amigurumis.
The patterns include:
The necessary stitches to crochet each part of the amigurumis

Photos of the process

Information about the necessary materials

Color changes

Detailed explanations

Assembly instructions

Author's support
There are decorative patterns that serve as a reminder of communion. That is why the two main patterns, the boy and the girl, have a solemn stance, with their eyes closed, praying.
They are medium size and neither of them lack detail. Although they are not designed to play with them, like the rest of my patterns, they are totally soft, so there is no problem with that.
As for the other 3 patterns, they are smaller, ideal to give as a souvenir, or even if you crochet them with a little thinner thread, they will be perfect as keyrings.
I loved designing these patterns and remember that time. I hope you also enjoy crocheting them.
Enjoy crocheting the Communion Amigurumi Patterns and make those you love most happy!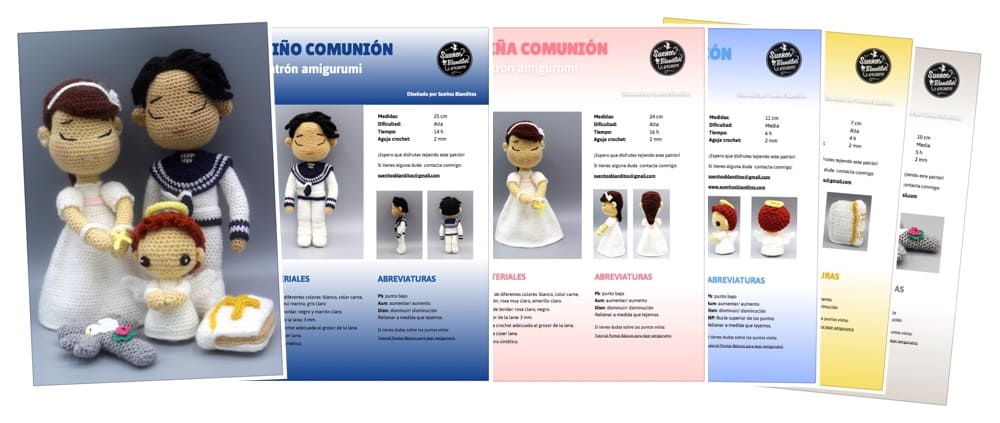 Boy Size: 9.8 "/ 25 cm
Girl Size: 9,4 "/ 24 cm

Angel Size: 4.3 "/ 11 cm

Book Size: 2.7 "/ 7 cm

Cross Size: 3.9 "/ 10 cm
Crochet Hook: 2 mm
Language of the Patterns: English and Spanish.
You will receive 2 PDFs of 57 pages: The 5 patterns in English and Spanish.
Download the patterns and start crocheting them right now!
To download them you must add the product to the cart and follow the purchase process.
If this is the first time you buy, an account will be created so you can access your downloads whenever you want in My Account > Downloads.
If you already have an account, enter to make the purchase with the data of your account.
Do you have any question?, please visit the FAQ.