Description
Delicious Amigurumis: 18 patterns to crochet amigurumi food is an ebook that you can download in PDF format to crochet 18 amigurumis of very popular food.
There are small and medium-sized amigurumis to which you can give a kawaii style (cute and tender) by adding eyes and mouths and turn them into funny characters, or leave them without those details and maintain a more realistic appearance. Ideal for the little ones to play, you can turn them into keychains or even use them as decoration.
It's a downloadable  70-page PDF ebook that includes these 18 patterns:
Fried egg: 2 x 2,3 (5 cm x 6 cm)
Taco: 3,1 x  1,1 (8 cm x 3 cm)
Chocolate cream cake: 2,3″ x 1,5″ (6 cm x 4 cm)
Hot dog: 2,7″ x  1,1″ (7 cm x 3 cm)
French fries: 2″ x 1,1″ (5 cm x 3 cm)
Toast: 1,5″ x 1,5″ (4 cm x 4 cm)
Onigiri: 1,5″ (4 cm)
Beer mug: 2″ (5 cm)
Waffle: 1,7″ x 2″ (4,5 cm x 5 cm)
Pretzel: 2,3″ x 3,1″ (6 x 8 cm)
Pizza slice: 2″ (5 cm)
Soft drink: 4″ x 1,5″ (10 cm x 4 cm)
Chocolate chip cookie: 1,5″ (4 cm)
Chicken Thigh: 3,1″ x 2″ (8 cm x 5 cm)
Creme caramel: 2,3″ x 1,1″ (6 cm x 3 cm)
Burger: 2″ (5 cm)
Ice cream: 3,1″ (8 cm)
Popcorn: 2,7″ x 2,7″ (7 cm x 7 cm)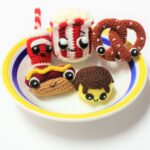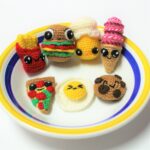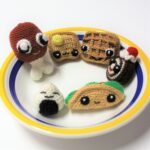 The patterns include the necessary stitches to crochet each part of the amigurumis, photos of the process, color changes, detailed explanations, assembly instructions and my help if you need it.
Suitable for all skills, you will find very simple and fast patterns to crochet like the Pretzel or the fried egg and other more elaborate ones like the waffle or popcorn, but all of them totally soft, made only with yarn, stuffing and crochet hook.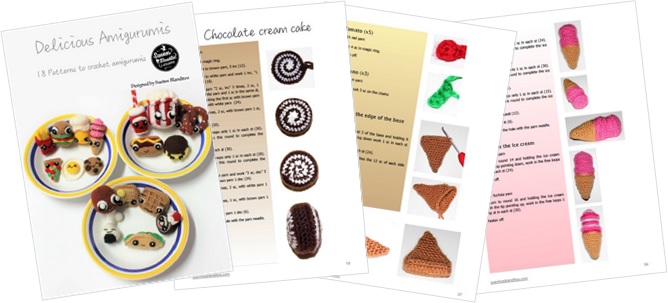 Author: Gretel Crespo (Suenhos Blanditos)
Language: Spanish and English
No. Pages: 70
Pdf format
Download the Pdf ebook Delicious Amigurumis: 18 patterns to crochet amigurumi food and enjoy crocheting these original and fun amigurumis and bring your favorite food to life.
A delicious gift for all tastes!
You will receive 2 PDF's: one with the Spanish version and the other with the English version.
* It is an Ebook in PDF format. It is not a physical book. *
I have already crocheted a typical dessert of my home, have you seen it?