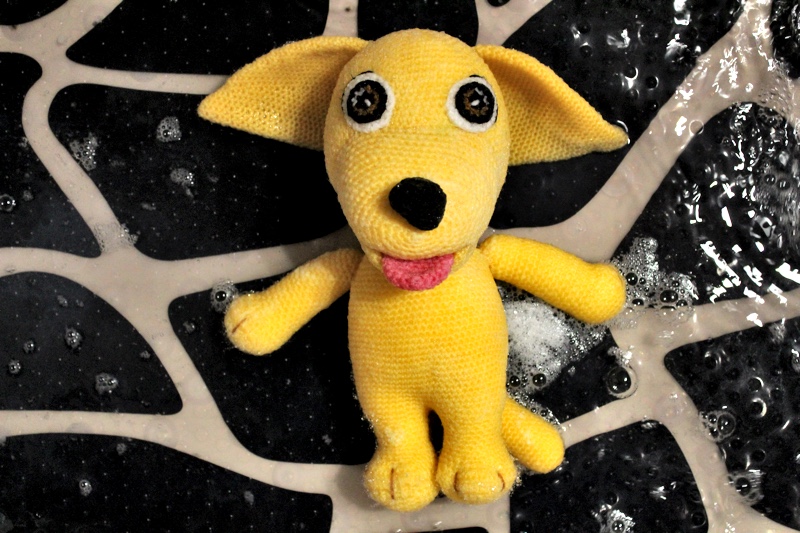 If you love the amigurumis as much as I do, I'm sure you already have a good collection of all the shapes and sizes that you'll like to keep like the first day.
The dust and dirt that accumulate over time on them can tarnish from your best creations.
If that's your case, it's time to wash your amigurumis.
You will see that with a little common sense and following these tips it is very easy:
If your amigurumi is small or medium size you can wash it in the washing machine. For this, you must program a short cycle, suitable for delicate garments.
Normally these cycles use cold water or at most 30 C.
Avoid centrifuge although a small tip is to introduce the amigurumis in a cloth cover that will protect them.
It is recommended to use a liquid detergent and avoid the waste that a washing powder could leave.
If your amigurumi is big or you fear that could be damaged in the washing machine, you will have to give it a bath by yourself.
You must follow the same process:
Wash it with cold or warm water and use liquid soap or even bath gel.
Do not rub hard, do it gently and try to drain the accumulated water as much as possible, squeezing the doll but without twisting it.
Now that it is clean it needs to dry:
Do not use the dryer, put it on the outside but avoid strong direct sun that could damage the colors.
Do not hang it or you will run the risk of deforming it.
You will have to leave it horizontal and turn it several times to make sure it dries everywhere.
Be patient, sometimes the weather does not accompany and may take time to dry.
Easy, right?
And you? How do you wash your amigurumis?
Tell me in the comments 😉

Share this Post:
[addthis tool="addthis_inline_share_toolbox_djcd"]