Description
With the Gingerbread Train and House amigurumi Patterns Pack in PDF format you will be able to crochet cute Christmas amigurumis ideal both for decoration and for children's games.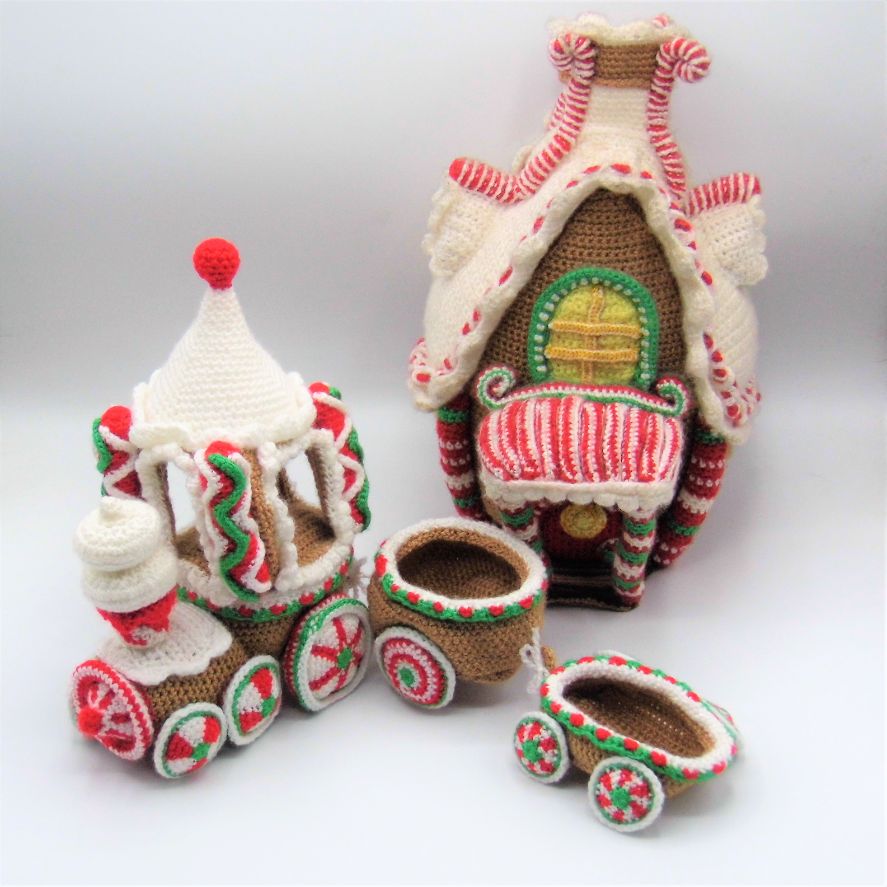 By following the instructions of the pattern you can crochet a beautiful gingerbread train, with its locomotive, 2 wagons and 3 essential travelers at this time:
The train driver Santa Claus, the passenger Gingerbread Man and the cute Christmas tree.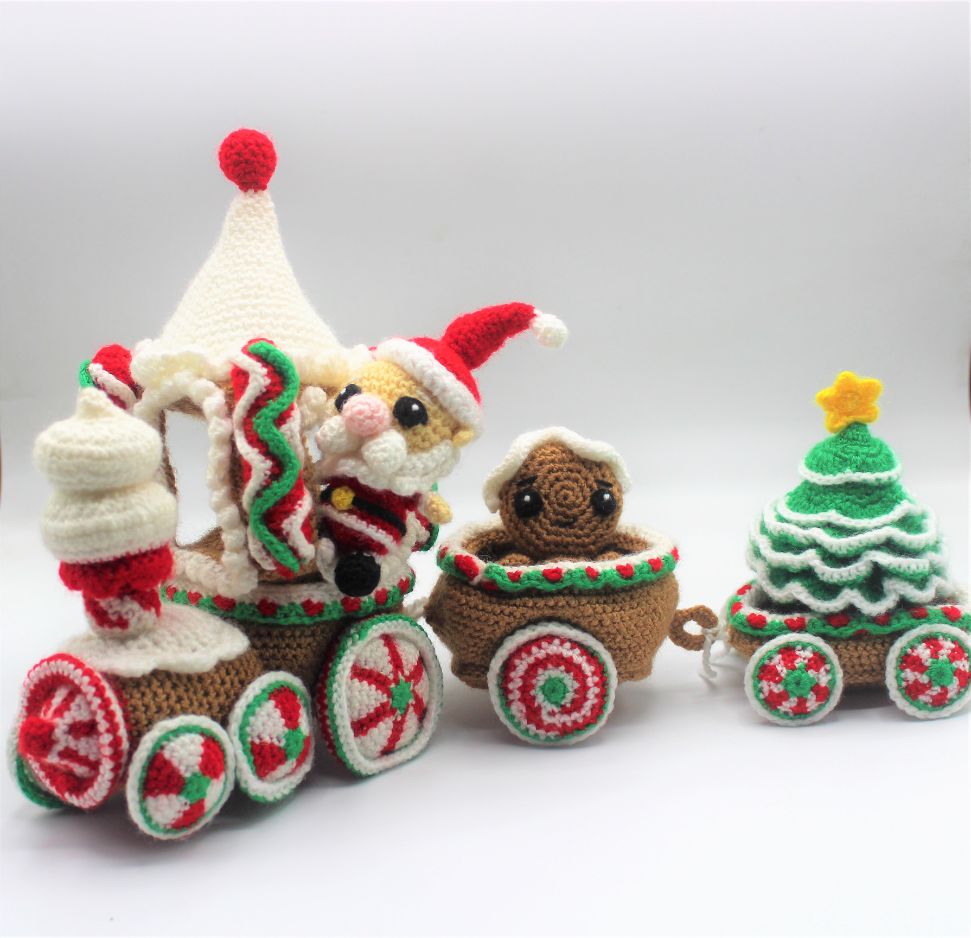 The beautiful Gingerbread House, medium in size, completes the Christmas scene. It has pieces integrated into the main structure, highlighting the different shapes and volumes that add color to the whole.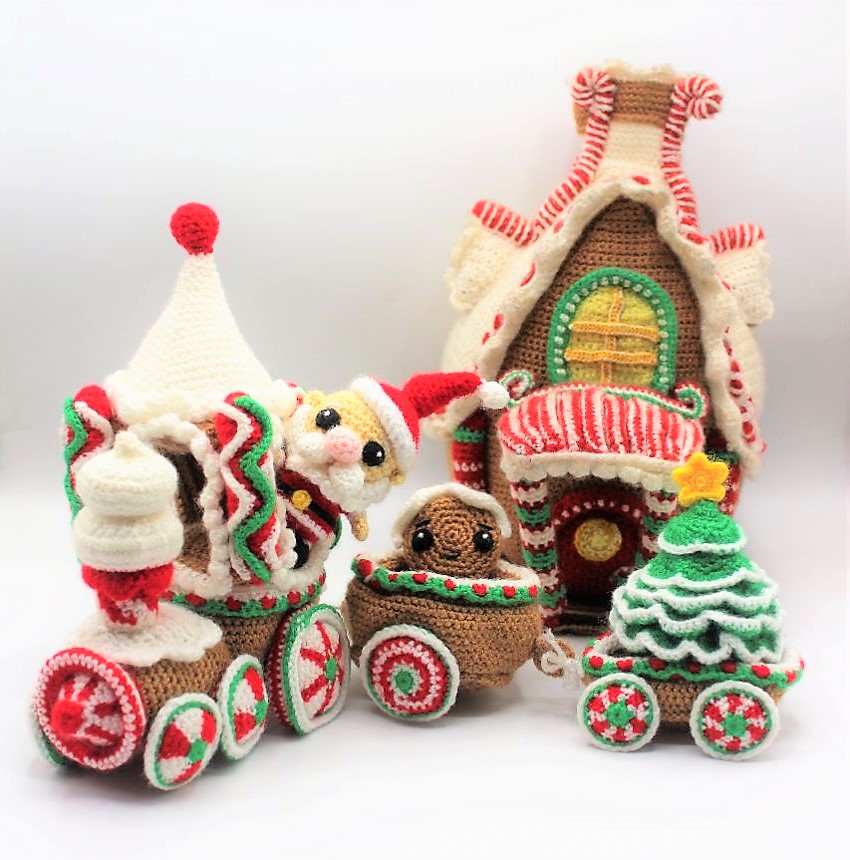 They are long, laborious, but not complicated patterns, with precise indications accompanied by more than 400 step-by-step photographs.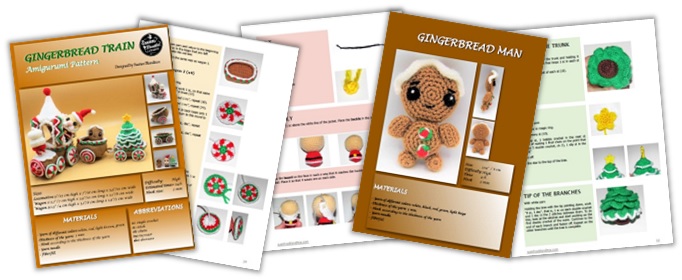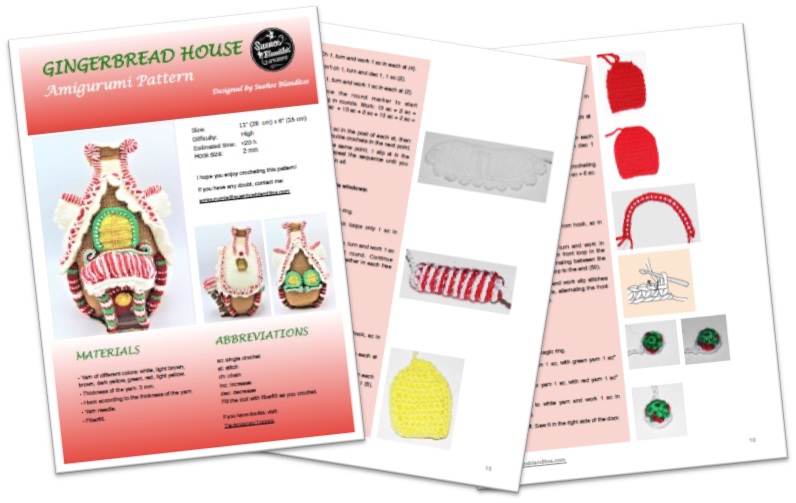 Like all my patterns, the entire design is completely Soft, which does not prevent them from being stable and resistant amigurumis.
They are 2 downloadable  55 and 30-page PDF files that includes these patterns:
Locomotive: 9″/23 cm high x 7″/18 cm long x 3,9″/10 cm wide
Wagon 1: 2,7″ /7 cm high x 3,9″/10 cm long x 3,1″/8 cm wide
Wagon 2: 1,5″ /4 cm high x 3,1″/8 cm long x 1,9″/5 cm wide
Santa Claus: 3,9″ / 10 cm (with the tip of the hat)
Gingerbread Man: 3,14″ / 8 cm
Christmas Tree: 3,9″ / 10 cm
Gingerbread House: 11″ (28 cm) x 6″ (15 cm)
The patterns include the necessary stitches to crochet each part of the amigurumis, photos of the process, color changes, detailed explanations, assembly instructions and my help if you need it.
Author: Gretel Crespo (Suenhos Blanditos)
Language: Spanish and English
No. Pages: 55 and 30
Pdf format
You will receive 4 PDF's: with the Spanish version and  with the English version.
Download the Gingerbread Train and House Amigurumi Patterns Pack in PDF format and enjoy crocheting these beautiful Christmas amigurumis!
To download them you must add the product to the cart and follow the purchase process to the end.
The first time you buy, an account will be created so you can access your downloads whenever you want in My Account > Downloads.
If you already have an account, enter to make the purchase with the data of your account.
Do you have any question?, please visit the FAQ (Frequently Asked Questions) or contact me and I will gladly help you.