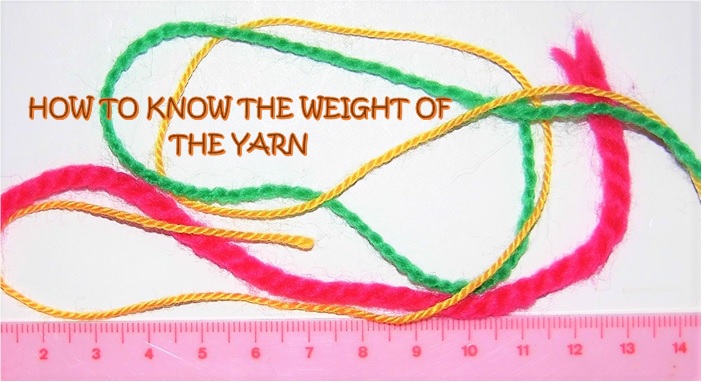 How to know the weight of the yarn quickly and easily is an important matter for all of us who like to crochet.
As you know, one of the most important characteristics of my patterns is that the resulting amigurumis are "totally soft". I do not use hard elements such as wires, buttons, zippers or even safety eyes. You can crochet them only with wool or yarn, a crochet hook and fiberfill.
Since these are the only materials that I use, it is essential that they be the most suitable to achieve the desired result.
There are many of you who ask me what type of yarn I use and since we are all from different places, sometimes it is difficult for me to explain and talk about centimeters, inches and categories according to their thickness.
Today I am going to talk about yarns, more specifically, how to know the weight of the yarn when you do not have any reference, for example, if you have a mysterious ball of yarn of which you have lost the label that specifies its characteristics.
But first, there are some things you should know about yarns to make it easier for you to choose the right one when crocheting your amigurumis.
Yarns are classified into several categories, but unfortunately, there is no single method to do so.
In general, there are:
• The standards of the CYC (Craft Yarn Council) that represents the most prominent members of the yarn industry in the United States.
Depending on the weight of the yarn, we can classify it into the following categories:

• The classification according to the number of plies that the yarn has. This system is the one used in the United Kingdom, Australia and New Zealand.
The problem with this classification is that it does not determine the thickness of the yarn, but rather the number of strands that are twisted to form it. There is the possibility that a yarn of 5 strands (5 ply) may be thinner than a yarn of 3 (3 ply), by the mere fact that each strand is of a lesser thickness or have been spun with greater tension between them.

• Wraps per inch method (WPI)
As its name suggests, it is about classifying the yarn according to the wraps of the same that fit in an inch or what is the same, in 2.5 cm.
It is a very useful method to determine the weight of that mysterious ball of yarn without a label that you want to use, but you must bear in mind that it is not exact, since there are factors that can alter the measurement.
To use it you need:
• A rule.
• Something to wrap the yarn with uniform thickness. You can use, for example, a pencil or a pen.
It's easy:
1. You must wrap the yarn so that each strand is next to each other, that is, they do not overlap. Do it carefully, do not tighten too much, or leave it loose, since you could vary the result too much.
2. With the ruler measure 1 inch or what is the same 2.5 cm. That is the length you should wrap.
3. When you have it, count the wraps you have made and guide yourself through this cheat sheet. Depending on the number of wraps, this will be the weight and category to which your yarn belongs.
If you have doubts, first try to do it with a yarn whose weight you know.

Let's see some examples:
This picture shows the yarn that I normally use in my patterns. Using this method, I have made 17 WPI. That places it in category 2 Fine.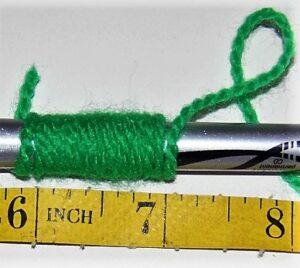 This other, on the other hand, is much thicker and for that reason I have only made 9 WPI. It belongs to category 5 Bulky.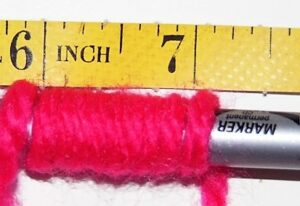 Finally, we have a much finer yarn with which I have managed to make 28 WPI. It belongs to category 0 Lace.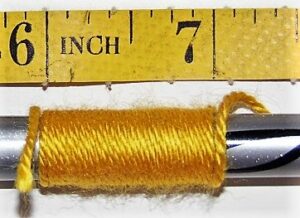 As you can see, it is a very simple method, but remember that it is not exact, but only an aid that will help you guide yourself.
Until next time!