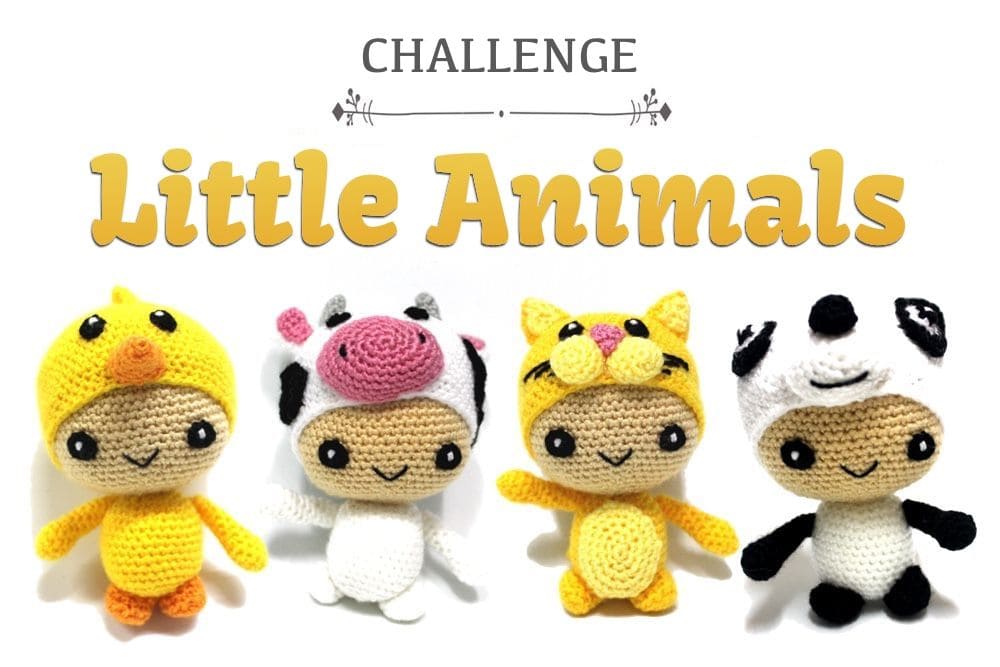 Sueños Blanditos is 1 year old!
I am very happy to have my own website from 1 year now and be able to share all my work from this "home" that I hope you also consider yours.
Don´t think it has been a simple path. More than 5 years ago I started the adventure of designing amigurumi patterns, that's why I have so many …
I started with a small blog and the truth is that I did not expect to get liked by anyone… I have never had too much confidence in myself. However, I was wrong and there were many who showed me.
Especially you, all of you. Those who follow me, those who buy, those who visit the web, crochet my patterns, send a photo, give me a "like" on the social networks or make a comment.
If it were not for your support, I would not have gotten that far.
That's why I want to celebrate this first anniversary with a fun challenge so that we can all enjoy weaving these animal babies.
CHALLENGE LITTLE ANIMALS BABY
* This challenge has ended *
Would you like to knit these babies animals and be able to get one of my ebooks for free?…

Well, you have it very easy!
All you have to do is participate in the LITTLE ANIMALS BABY CHALLENGE
The challenge is to crochet a baby in animal costume, or more, as you want.

For this, I offer you a pattern that includes the base of the baby and the accessories so you can create several animal costumes:
But with a little imagination you can make the animal you want. By changing colors and combining the different parts you can create more original and different designs.
Imagination is power!

– BASES OF THE CHALLENGE –
In order to participate you simply have to follow these steps:
1.- Download the baby in animals costume pattern here.
2.- Crochet your baby in animal costume. You can crochet the designs that I propose in the pattern, or you can crochet the little animal that you want.
Take a picture of your / s amigurumi / s and send it to amigurumis@suenhosblanditos.com.
Note: It participates with a photo of amigurumi, if you want to include multiple photos to be viewed from various angles, beam assembly and send in a single photo.
I'll be uploading all the babies in animal costume that you send me in this post.
It will be like a baby boom!
– AWARDS –
Award for completing the challenge: Just for making and sending me a picture of your little animal baby you will receive a 50% discount coupon for any purchase at Sueños Blanditos .
Draw prize: You will also enter to the draw for one of my amigurumi patterns e-books to choose.
The winner of the draw is the number that matches the last 2 figures of the draw of  ONCE (National Organization of the Spanish Blind) on Sunday, April 1, 2018.
Winner of the draw: 40.- María Verónica Alvarez
Voted award: The most voted in the comments will get one of my e-books free, whichever you want
Winner of the voted award: 9.- Coro Sánchez – 24 votos
Congratulations!
There have been a total of 160 votes, widely distributed …
The results are the following:
9.- Coro Sánchez – 24 votes
29.- Joanna – 16 votes
23.- Lurdes – 10 votes
15.- Andrea Caya Palpa – 8 votes
36.- Faby – 6 votes
37.- Sheila Montes Sevilla – 6 votes
18.- Ingrid – 5 votes
…
Award for voting: Among all the comments that vote for one of the amigurumis will be raffled one of these amigurumi patterns collections to choose.
Each vote has been assigned a number. You can search your vote in the comments and you will see a number between (). That will be the number with which you participate in the draw.
The winner of the draw is the number that matches the last 2 figures of the draw of  ONCE, Wednesday, April 4.
Winner of the award for voting: (75) Almudena Lorite
Congratulations to the winners and many thanks to everyone for participating!
– DEADLINES –
Deadline to send your amigurumi: 03.26.2018.
Voting period: March 27 to April 2, 2018.
* This challenge has ended *
– Amigurumis –
Click on the photos to enlarge
[aigpl-gallery id="7558″]
– LITTLE ANIMALS BABY PATTERN –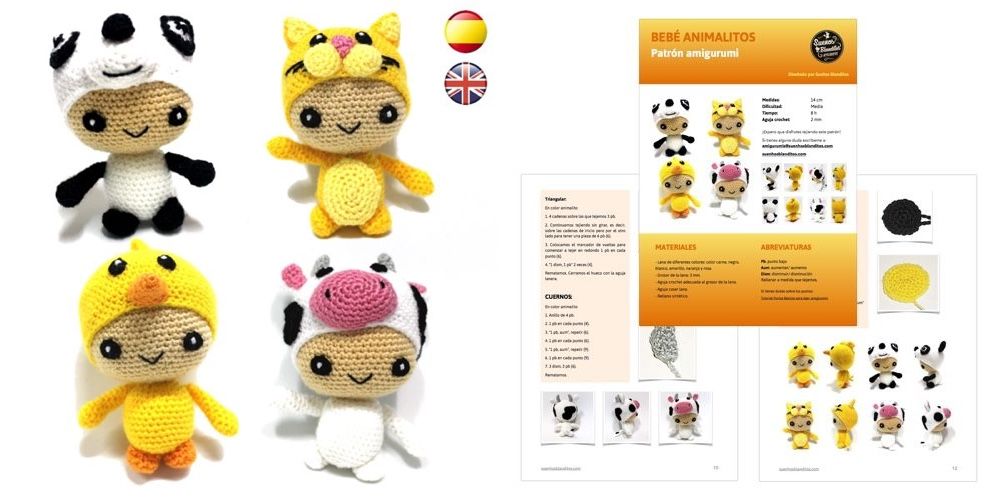 Share this Challenge:
[addthis tool="addthis_inline_share_toolbox_djcd"]