Description
Download the PDF Pattern to crochet the most popular doll, the favorite of girls for its surprise component and the multiple collections that exist: The LOL doll.
This time it is not an ordinary pattern, but 3 patterns in 1 and can be much more.
By following the indications of the pattern you can crochet the base of the body of a small LOL doll and characterize it as Alice in Wonderland or its antagonist The Queen of Hearts..
It does not lack detail: Different hairstyles, dresses, jacket, tights, panties, boots, belt, headband, tiara … everything you need to create these 2 characters and with a little imagination, the LOL doll that you prefer.
With the basic body, changing the colors and adapting in a simple way the clothes and accessories, you can make your own collection of LOL dolls.
Play with the surprise factor, with the mystery and the multiple possibilities that the pattern allows you and design your own LOL dolls.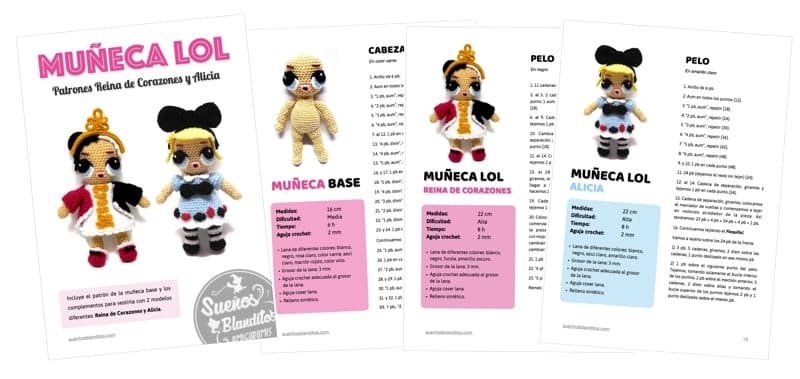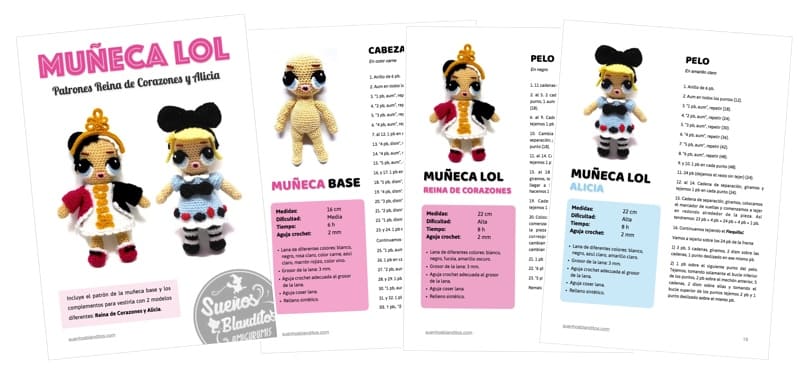 Size of the doll: 16 cm / 6.2 inches
Hook size: 2 mm
Language of the pattern: Spanish and English
You get 2 31-pages PDFs: the pattern in Spanish and English.
Download the pattern and begin to crochet them right now!
To download it you must add the product to the cart and follow the purchase process.
If this is the first time you buy, an account will be created so you can access your downloads whenever you want in My Account > Downloads.
If you already have an account, enter to make the purchase with the data of your account.
If you have any questions, please visit the FAQ.