To complete the subscription process, click on the link in the email I just sent you.
Once your email address is confirmed you will receive the pattern to crochet this little bear and a € 5 discount coupon: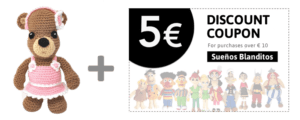 Check your inbox!
If the e-mail does not arrive, check your spam folder.
Keep in mind that the email may take a while to arrive …
Thank you very much for subscribing!
If you have any questions please visit the FAQ
It may interest you…